Independent Lifestyles moves to Kent
Two new supported living services are being developed in Ashford, Kent. The final touches and inevitable garage conversions are currently underway, once complete the services will add further 9 beds to the Independent Lifestyles supported living portfolio. This new service will be for individuals with autism and/or learning difficulties. Old Orchard is a spacious five-bedded home nestling at the back of a quiet cul-de-sac in the Singleton area and Grasmere is a modern four-bedded home in Kennington. The service manager, Rob Bunting took up his post on 10 April and is currently establishing ties with local commissioners and has just started to look for support staff to work across both homes.

If you would like more information about the homes or working for Independent Lifestyles in Kent please call Rob on 01233 643330 or e-mail rob@independentlifestyles.co.uk
Millstone Day Centre - Located in Sayers Common, West Sussex still has some vacancies in sessions throughout the week. If you or someone you know is looking to spend their time in a safe, comfortable environment engaging in meaningful occupation, please do not hesitate to get in touch with Cassie 01273 831 400 or email cassie@independentlifestyles.co.uk
Abi House - Worthing, West Sussex. Abi House was recently inspected by CQC - the inspector was very engaging and offered some great guidance and advice. We are pleased to announce the overall rating was 'good'. In addition Abi House has also been awarded the highest rating from the HSE executive in their most recent inspection. Lindsey Bishop and her team continue to work really hard to always find ways to improve the service and show a great resilience and commitment. A huge 'well done' to all at Abi House - a fantastic achievement by all.
---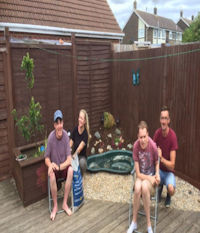 Greenstones' new sensory area!
The customers and staff have been working very hard to create a calm/relaxing space.

We would like to say a big thank you to Gardner and Scardfield for their kind generosity with the contribution of the shingle and under lay and B&Q for the flowers and soil.


---
Soundbites
Have a compliment, complaint or question? Stay in touch via: vanessaw@independentlifestyles.co.uk - Help us help YOU!
As we are a company committed to continued learning and development, please do keep bringing any ideas/comments or suggestions for Vanessa's (head of Business Development) attention – the company views feedback as an essential way in which to continue to provide the highest quality of support and customer care contact her vanessae@independentlifestyles.co.uk