Sonia Page

Victor Muiithi

Karen Sumner

Lindsay Bishop
Meet the Staff
Donna Wellman - Service Manager - Abi House, Worthing I have been working for Independent Lifestyles for eight years. I am currently the Service Manager at Abi House, a new residential service for individuals with Learning Difficulties, Autism and Complex Needs. I have a Higher University Certificate in Autism and am also a Proact - Scipr instructor which involves training the staff to positively support individuals who may present with Challenging Needs.
Reuben Chirimumimba - Acting Service Manager - Blackwater, Crawley. I have been in the Care Industry, working with those with Learning Disabilities for around 13 years. Having previously held the role of Team Leader at Blackwater I am very pleased to be back at the service in the role of Acting Service Manager and am enjoying it so far!
Lindsey Bishop - Acting Service Manager - Findon, Crawley. Lindsey is currently Acting Service Manager at Findon and as a valued member of the team is working hard with those currently residing at the service.
Karen Sumner - Acting Service Manager - Ashdown, Haywards Heath. I joined Independent Lifestyles in September 2011, having spent 13 years in Catering. I started at Greentrees and Stanbridge Day Centre as a Support Worker and really enjoyed my new position, when Boundstone opened I began working there as well. I then got the position as team leader at Ashdown and went on to become Acting Service Manager.
Sonia Page - Service Manager - Greenstone, Lancing. I have been managing ALD services (both residential and supported living) since 2005, having worked in social care for 21 years in a variety of different settings I have NVQ 4 In Care and RMA, I also have a Higher Diploma in Psychology and Psychotherapy, and am currently working on achieving PTTLS level 4.
Victor Muriithi - Data Protection Training and Audit Officer for iL. Victor has been undertaking spot/ad hoc inspections across all the service sites - as part of our ongoing and robust QA measures. Victor is an asset to the company as he also is a support worker at our Blackwater service.
---
Service News
We currently have vacancies for new customers in both Easton and Alfreys and we wish the very best to a customer from Easton who has been supported there for 2 years and is now moving on to independently living in his own bungalow in Chichester. We wish him every success and happiness!
---
Soundbites
Merry Christmas and a Happy New Year from all at Independent Lifestyles - whilst staff members appreciate your offers of kind gifts, we are unable to accept gifts over the value of £5.00, if you would like to donate to charity instead of gifts to staff, may we suggest Chestnut Tree House, a local children's charity.
Have a compliment, complaint or question? Stay in touch via email: Vanessa - Help us help YOU!
As we are a company committed to continued learning and development, please do keep bringing any ideas/comments or suggestions for Vanessa"s (head of Business Development) attention - the company views feedback as an essential way in which to continue to provide the highest quality of support and customer care, contact Vanessa here
Proact-Scip-rUK® Training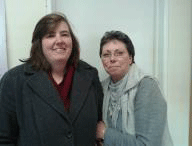 Congratulations to Michele Waddington and Donna Wellman for passing their Proact-Scip-rUK® Instructors Assessment - many hours of toil and pain have paid off! Well done!
What is PROACT-SCIPr-UK®?
PROACT-SCIPr-UK® means Positive Range of Options to Avoid Crisis and use Therapy, Strategies for Crisis Intervention and Prevention; a system that was first developed in New York and has been revised by the Loddon School and is now nationally recognised and implemented throughout the UK.
It is specifically promoted and accredited by the British Institute of Learning Disabilities (BILD).
The focus of this programme is to assist individuals to maintain self control, to enable all staff working with persons with developmental disabilities and challenging behaviours to engage in proactive methods of positive behaviour support.
PROACT-SCIPr-UK® emphasises a proactive rather than reactive approach to behaviours and integrates entirely with individualised person-centred planning.
PROACT-SCIPr-UK® is used in the management of challenging behaviours providing a structure of support that minimises the use of physical intervention.