A message from Donna Hawes...
Since our last newsletter we have some very exciting progress on marketing. IL are now on Bright fm every day, raising awareness of ILSA and the new 'crisis management helpline' we have set up, which offers immediate assistance and advice to customers & families regarding care & support. I am delighted to say, as a result we have some new customers for ILSA & clearly our profile is growing! In addition, we now advertise on the community TV at Newton's surgery in Haywards Heath, plus we are soon to be sponsoring the Issacs Lane roundabout in Haywards Heath. All very exciting and hopefully will result in more local interest. I will keep you posted!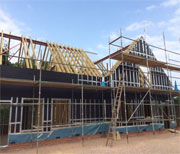 Millstone
The building works have started and everyone is getting very excited about the new space that will be available for customers old and new to engage in meaningful activity, meet new friends and gain some wonderful experiences! Completion is mooted for September 2015!
Company News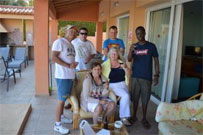 Easton AND Allfreys joined together to take clients to Spain for a holiday. Three staff took 4 clients to Costa Brava on the 11th June for a week. Easton is an all-male service and Allfreys allfemale. The two services often amalgamate for social gatherings but this is the first time they have chosen to go on holiday together!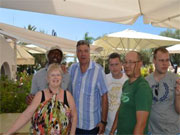 The stay in a villa in Spain was extremely successful and enjoyed by all. A highlight was meeting with Sam Allardyce!
On the 5th July Easton, Allfreys and Findon joined together for a BBQ at Easton. The morning arrived with torrential rain and an indoor BBQ was planned, but the sun shone by mid-day and this was a very successful gathering and enjoyed by all. Initially it was arranged to wish 'Bon Voyage' to one of the Easton clients who was moving on to East Sussex following an extremely successful rehabilitation program at Easton, unfortunately due to politics of funding his move has been delayed, this may mean we do it all again Lindsey!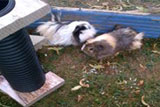 Clients at Easton have purchased 2 guinea pigs Elvis and Melvin. They have taken up residence in one of the small sheds and clients and staff have made an external run from recycled wood for them to use in the day when the weather is fine.
---
Save the date!
**** Upcoming training events****
Positive Behaviour Support Training - Thursday 6th August 09.00 - 17.00
Food Safety - Tuesday 8th September 09.30 - 12.30
Mental Capacity Act in Practice - 9th October 10.00 - 16.00
Contact Vanessa Evans on 07554 992 560 to book your place now!
---
Soundbites
Have a compliment, complaint or question? Stay in touch via email: Vanessa - Help us help YOU!
As we are a company committed to continued learning and development, please do keep bringing any ideas/comments or suggestions for Vanessa"s (head of Business Development) attention - the company views feedback as an essential way in which to continue to provide the highest quality of support and customer care, contact Vanessa here